Sara Sampaio

Born
July 21, 1991
Porto, Portugal
Hair
Dark brown
Eyes
Green
Height
5'7¾" / 172cm
Bust
32" / 81cm
Waist
23.5" / 60cm
Hips
34" / 86cm
Dress
4 (US) / 34 (EU)
Shoe
7 (US) / 38 (EU)
Social media
Instagram
Twitter
Sara Pinto Sampaio
(born July 21, 1991) is a Portuguese model.
Victoria's Secret Fashion Show
Edit
Sara has walked in six consecutive Victoria's Secret Fashion Shows. She has been an Angel since 2015.
Sara walked in Segment 5: PINK Network.
Sara walked in Segment 2: Dream Girls and Segment 4: University of PINK.
Sara walked in Segment 3: Exotic Butterflies and Segment 6: Firework.
Sara walked in Segment 2: Mountain Romance and Segment 4: Secret Angel.
Sara walked in Segment 1: Punk Angels and Segment 3: Winter's Tale.
Sara walked in Segment 1: Glam Royale and Segment 7: Celestial Angel.
Personal life
Edit
She has stated on Instagram that she suffers from trichotillomania.
She is dating British millionaire Oliver Ripley.
victoriassecret.com
Edit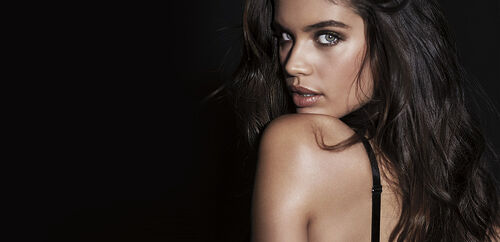 Favorite place in the world?
Hawaii.
If you were a spice, which would you be?
Probably Piri Piri.
The 5 things you can't live without?
Cell phone, lip balm, friends, beach and sun.
What haven't you done yet that you wish you could?
Act in a movie, go to Australia and the Maldives, have a big house full of dogs, go to space, touch a shark. I mean the list goes on and on.
What did you eat for breakfast?
Pancakes!! All day every day.
Morning or night person?
Definitely night. Morning should only exist after noon.
Righty ot lefty?
Righty.
Pink or red?
Red! Red everything, love red lips.
Chocolate or vanilla?
Vanilla, brings me back to childhood.
Boxers or briefs?
Briefs.
The most glamorous part of your job?
Getting to go to amazing exotic locations and having the opportunity to wear the most amazing clothes, gowns and lingerie.
The least glamorous part of your job?
Airports, early call times and being alone all the time and away from your friends and family.
Sara's journey to becoming an Angel
Edit
VS Gallery
Edit
Community content is available under
CC-BY-SA
unless otherwise noted.