Martha Seifert Hunt (born April 27, 1989) is an American model.
Biography
She was born in Wilson, North Carolina, to parents Caroline and an unnamed father. She has a sister, Carolyn.
She is of Cornish, English, French, German, Irish, Scots-Irish (Northern Irish), Scottish, Welsh, Swiss-German and Cherokee descent.
She went to high school at Ibstock Place School in Roehampton. She took relaxation classes since she had a stammer from the age of 8. Since an early age she had an interest in acting.
Career beginnings
She was discovered by a photographer in Charlotte, North Carolina, who introduced her to agencies in New York. She moved there and signed with IMG Models.
Personal life
She has a diagnosis of scoliosis. When speaking of her surgical scars, she says: "Scars are uniquely beautiful, and they tell a triumphant story about you. I have a long one down my back, and one on my lower right abdomen."
She has been in a relationship with photographer Jason McDonald since 2015. They met on the set of a Free People campaign shoot. They got engaged on January 5, 2020.
Victoria's Secret Fashion Show
Martha has walked in six consecutive Victoria's Secret Fashion Shows. She has been an Angel since 2015.
Martha walked in Segment 2: Shipwrecked.
Martha walked in Segment 2: Dream Girls and Segment 6: Angel Ball.
Martha walked in Segment 1: Boho Psychedelic and Segment 6: Firework wearing the Swarovski outfit.
Martha walked in Segment 1: The Road Ahead and Segment 5: Dark Angel.
Martha walked in Segment 1: Punk Angels and Segment 3: Winter's Tale.
Martha walked in Segment 3: Flights of Fancy and Segment 6: Downtown Angel.
victoriassecret.com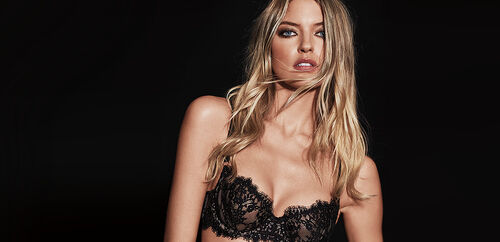 Favorite place in the world?
Tulum.
If you were a spice, which would you be?
Cinnamon.
The 5 things you can't live without?
My dog, my purse, my family, my diamond earrings that were given to me as a special gift and my favorite watch.
What haven't you done yet that you wish you could?
Be in a movie.
What did you eat for breakfast?
Greek yogurt and green juice.
Morning or night person?
Night.
Righty ot lefty?
Righty.
Pink or red?
Red.
Chocolate or vanilla?
Chocolate.
Boxers or briefs?
Briefs.
The most glamorous part of your job?
Getting made up all the time.
The least glamorous part of your job?
Flight cancellations in the middle of nowhere and not booking a job.
Martha's journey to becoming an Angel
VS Gallery