We're Getting Mutants in the MCU - The Loop
Play Sound
Elsa Anna Sofie Hosk (born November 7, 1988) is a Swedish model.
Biography
She was born in Stockholm, Sweden, the daughter of Pål and Marja Hosk. She has two brothers, Johan and Lukas.
Growing up she pursued a career in the Swedish women's basketball league. After playing professional basketball for two years, she began receiving many job offers and soon moved to New York City to begin modeling full-time.
Career beginnings
She was presented with offers to model during high school after her father submitted photographs to various modeling agencies in Sweden when she was 13; she began modeling at 14. She did some modeling in high school but decided to primarily concentrate on her studies instead, she did some notable work with Guess and other companies however.
Personal life
She dated Swedish songwriter Andreas Kleerup from 2008-2012.
She is dating entrepreneur Tom Daly. They have a daughter born in February 2021.
Victoria's Secret Fashion Show
Elsa has walked in eight consecutive Victoria's Secret Fashion Shows. She has been an Angel since 2015. She was a PINK spokesmodel from 2011-2014. She has worn one fantasy bra.
Elsa walked in Segment 6: Club Pink.
Elsa walked in Segment 4: PINK Ball.
Elsa walked in Segment 5: PINK Network.
Elsa walked in Segment 4: University of PINK and Segment 5: Fairy Tale.
Elsa walked in Segment 1: Boho Psychedelic and Segment 5: Ice Angels.
Elsa walked in Segment 1: The Road Ahead and Segment 4: Secret Angel.
Elsa walked in Segment 1: Punk Angels and Segment 5: Nomadic Adventure wearing the Swarovski outfit.
Elsa walked in Segment 3: Flights of Fancy wearing the fantasy bra and Segment 7: Celestial Angel.
victoriassecret.com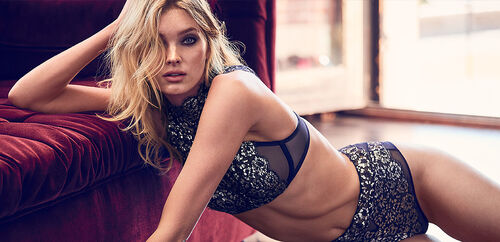 Favorite place in the world?
Tokyo.
If you were a spice, which would you be?
Turmeric.
The 5 things you can't live without?
Family, friends, love, food and humor.
What haven't you done yet that you wish you could?
I want to backpack throughout Asia.
What did you eat for breakfast?
Eggs and bacon.
Morning or night person?
Night.
Righty ot lefty?
Righty.
Pink or red?
Red.
Chocolate or vanilla?
Neither.
Boxers or briefs?
Boxers.
The most glamorous part of your job?
Getting to work with the most hair and makeup artists around the world.
The least glamorous part of your job?
Traveling alone on planes.
Elsa's journey to becoming an Angel
VS Gallery